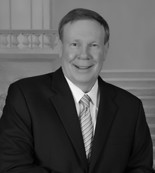 Stephen L. Harris, a Chartered Financial Consultant and a licensed life, health and disability agent. He is an Investment Adviser Representative with Cetera Advisor Networks LLC. Cetera Advisor Networks LLC, member SIPC, is a full service broker/dealer and Registered Investment Adviser, providing financial planning, investment advice and brokerage services. Founded in 1980, Stephen L. Harris, CLU & Associates directs their focus in providing insurance and related employee benefit plans to small businesses, and Financial Planning Services to individuals and their families.
Learn about six blind spots that can lead to regrettable portfolio decisions (and how investors might avoid them).

The middle of the year is an ideal time to revisit financial resolutions and consider steps that may help develop a stronger financial position.

This article presents some steps employees can take to get the most out of their employer-sponsored retirement plans.

A discussion of the important provisions in the SECURE Act that could affect retirement, tax, and estate planning strategies.
This calculator is designed to help you attach a dollar figure to your life's work.

This calculator can help you estimate your annual federal income tax liability.

Use this calculator to estimate how much income and savings you may need in retirement.