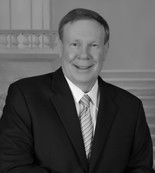 Stephen L. Harris, a Chartered Financial Consultant and a licensed life, health and disability agent. He is an Investment Adviser Representative with Cetera Advisor Networks LLC. Cetera Advisor Networks LLC, member SIPC, is a full service broker/dealer and Registered Investment Adviser, providing financial planning, investment advice and brokerage services. Founded in 1980, Stephen L. Harris, CLU & Associates directs their focus in providing insurance and related employee benefit plans to small businesses, and Financial Planning Services to individuals and their families.
Find out how and why mergers and acquisitions take place (and why they matter to investors).

This article looks at credit quality in the corporate bond market and the potential impact on fixed-income portfolios.

The new tax law includes several provisions that could benefit business owners, such as the pass-through deduction and write-offs for capital investments.

Find out whether a testamentary trust, living trust, or special-purpose trust can benefit your family.
This calculator is designed to help you attach a dollar figure to your life's work.

This calculator can help you estimate your annual federal income tax liability.

Use this calculator to estimate how much income and savings you may need in retirement.