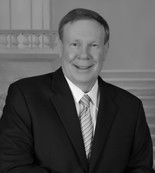 Stephen L. Harris, a Chartered Financial Consultant and a licensed life, health and disability agent. He is an Investment Adviser Representative with Cetera Advisor Networks LLC. Cetera Advisor Networks LLC, member SIPC, is a full service broker/dealer and Registered Investment Adviser, providing financial planning, investment advice and brokerage services. Founded in 1980, Stephen L. Harris, CLU & Associates directs their focus in providing insurance and related employee benefit plans to small businesses, and Financial Planning Services to individuals and their families.
ETFs have some attractive features that set them apart from mutual funds, but there are also cost and risk factors to consider.

Dollar-cost averaging can help investors focus on building their portfolios through regular investing rather than reacting to market swings.

Small-business owners will want to take full advantage of every legal tax break available, such as deductions for a home office and automobile expenses.

Find out how individual impact bonds may allow investors to preserve principal and generate income while supporting activities that are important to them.
This calculator is designed to help you attach a dollar figure to your life's work.

This calculator can help you estimate your annual federal income tax liability.

Use this calculator to estimate how much income and savings you may need in retirement.