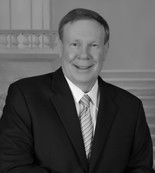 Stephen L. Harris, a Chartered Financial Consultant and a licensed life, health and disability agent. He is an Investment Adviser Representative with Cetera Advisor Networks LLC. Cetera Advisor Networks LLC, member SIPC, is a full service broker/dealer and Registered Investment Adviser, providing financial planning, investment advice and brokerage services. Founded in 1980, Stephen L. Harris, CLU & Associates directs their focus in providing insurance and related employee benefit plans to small businesses, and Financial Planning Services to individuals and their families.
Do you know which factors influence bond yields and why the gap between short- and long-term yields is often viewed as an economic indicator?

Before saying "I do," newly-engaged couples may want to discuss these five key financial topics.

An inverted yield curve can be an economic indicator along with other factors that contribute to an uncertain outlook for future growth.

Discover how the step-up in basis provision may help reduce capital gains taxes and preserve the value of assets left to heirs.
This calculator is designed to help you attach a dollar figure to your life's work.

This calculator can help you estimate your annual federal income tax liability.

Use this calculator to estimate how much income and savings you may need in retirement.